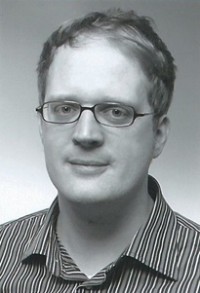 Christian Lindemann, born in 1975, studied graphic design in Hildesheim (germany) and Melbourne. Working a few years as a commercial artist he decided to go into business for himself, in 2007. He uses vector graphics to create a colorful and vivid style. Christian worked for miscellaneous agencies like Jung from Matt, Saatchi & Saatchi, Intertone and DDB with requests from Ferrero. He also works on plenty of magazines for publishing companies all over the world. Living close to Hanover (germany), he is married and father of a little daughter.
Christian Lindemann is the man behind the visual world of Mina's Adventures. He created every scene, every character and designed every tiny bit of what you can see. Almost a week it takes him to finish a setting for the app. Starting with nothing more than a pencil layout on a huge piece of paper it soon will become something special. After a short review on the matter he then finalizes what makes Mina's world so exciting.
The pencil layout will be redrawn on the computer using different complex software. Therefore Christian needs his digital pencil and sort of an electrical piece of paper. Every bit of the layout will be transported into the computer file. If Christians not happy with the position of the elements he can simply click and replace them in an instant. After finishing the digital drawing, christian sends it to Nadia. She separates the characters and images again to work on the animation of certain elements.